Description from the architects
The client requested a contemporary, iconic house without unnecessary rooms, open plan and airy. They needed 4 suites, a living area and a large study as he does a lot of work from home. The wife originally wanted burglar bars, which is not allowed in the estate, but this was the inspiration for the random steel bars used around the house, which could possibly keep flying elephants out.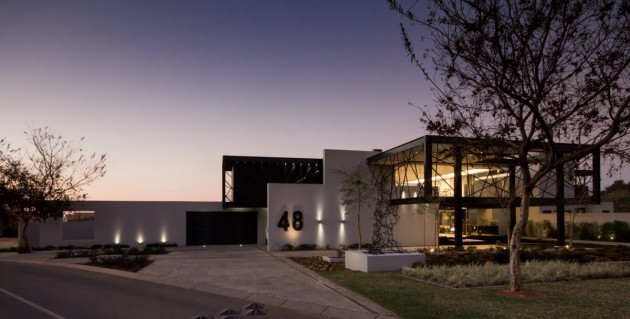 The house was designed by Werner van der Meulen of Nico van der Meulen Architects as a simple rectangular shape, with the living rooms in the centre, surrounded by a koi pond and a pool. From the porte cochere one walks over the koi pond to the front door, looking through the hall, dining room and family room at the pool on the north side.  The koi pond filled with mature koi surrounds the dining room on two sides. Broken slabs of granite with steel sheets over acts as steps between the dining room and hall to the family room and kitchen. A cantilevered staircase jut out of a granite clad wall, with an illuminated handrail cut into the wall.
The kitchen is enclosed by frameless doors, and opens up to the lanai and the east, facing the garden. A steel grating balcony to the main bathroom on the north-east corner protects the kitchen from too much morning sun. The study faces north and east, with the east side facing the lanai across the pool. A bridge crosses over the living room, connecting the pyjama lounge and kid's bedrooms with the main suite.
M Square Lifestyle Design used the random patterns evident on the steel facade as inspiration for the interior design. Illuminated ceilings add to the feeling of transparency , while the materials used were chosen to complement the contemporary feel.
B&B Italia, Pedrali and Molteni &C furniture, Foscarini and Zero lamps and Lignet Pure rugs were supplied by M Square Lifestyle necessities, along with steel sculptures by Regardt van der Meulen.